May 2001
We had a very successful bicycle trip to Italy. Four of us from Ottawa, Ray and Jeanne Burnham and Ric and Joan Potter, bicycled more than 1,100 K over lots of challenging hills from the east coast at Rimini, through Umbria and Tuscany, to La Spezia on the west coast. The Burnhams started their trip in Venice, while the Potters spent April biking through Crete and the Peloponnese in Greece (that's another story you must ask the Potters about). The Potters took an overnight ferry from Greece to Ancona, then biked up to Rimini, where they met up with the Burnhams. All in all we had great company, good weather, enjoyed lots of delicious food and wine, biked through picture postcard countryside, admired the architecture and artwork we had only read about before, and were charmed by the hospitality of the Italian people.
We holed up once for two days, waiting for the rain to stop, but the weather did revert to sunshine and stayed that way for the rest of our trip. We did have a few days that seemed cloudy and cool, but the first hill found us packing away our jackets and stripping off biking tights. Our biggest concern was to try and avoid the inevitable tan marks from short sleeve shirts and biking shorts. The only time we got wet was the very end of our trip when we biked the last hour in steady, light rain.
We managed to escape serious bike maintenance problems. Jeanne had one flat tire early in the trip and had a minor problem with the ball bearings in the rear hub, Joan and Jeanne managed to jam their chains a few times and Ray and Jeanne experienced broken pannier hooks within five minutes of each other. Thankfully both Ric and Ray are excellent mechanics and every problem was fixed quickly.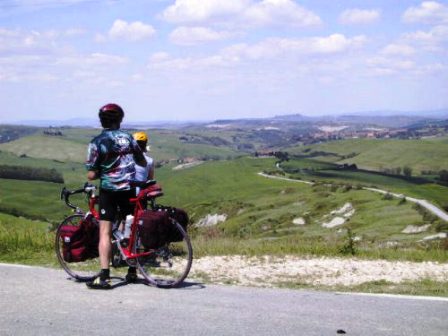 We were all impressed by the good road conditions throughout our trip. The increase of tourism in Tuscany and Umbria has meant new road surfaces throughout. Add to this the extreme courtesy of the Italian drivers and it makes for a very biker friendly environment. It doesn't hurt either to have beautiful views on every side as you huff and puff up the hills and zoom down the other side. We had to make frequent Photo Op stops to capture the vistas.
We managed to keep our biking distances to a reasonable length so that we had time for sight seeing. Our longest day was 99 K and several days we stopped before lunch having travelled only 35 - 40 K. Even so, there were several towns we were sorry to leave. Four weeks sounds like lots of time, but with so much to see, it passes in a flash.
Of course, increased tourism leads to increased prices for lodging and food, but for our money we got clean, newly renovated and decorated rooms with every creature comfort. We completed the whole trip without any advance reservations and this seldom posed a problem. There were only a few times when we felt the charges were excessive or we had to compromise with a less comfortable room arrangement. Some of our best rooms were not even hotels, but were labelled as 'Camere, Zimmer, Rooms', and were usually found on the floors above the stores.
Travelling with panniers means you don't have room for many different outfits, so cycling clothes had to be hand washed every day. We fit right in with the locals with all our laundry hung out the windows of our rooms. Luckily, we have the washing methodology down p at and everything was dry by the following morning.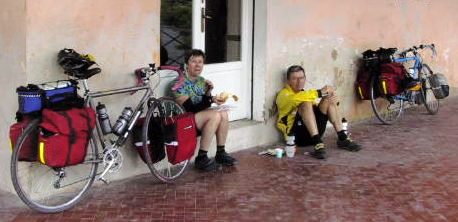 We quickly established a routine of searching out a deli, or 'alimentare', in a village and buying fixings for a picnic lunch: bread, cheese, prosciutto or salami, pesto or marinated peppers, olives, fruit and juice. We even learned to order everything in a mixture of fractured Italian and sign language. Almost every village has a public park conveniently located for our lunch. Of course, all this biking deserves some reward, and one of our favourites, was Gelato. We managed to sample our way through many of the flavours. For supper, we would scout out the local restaurants for the best deals. Many had a 'menu tourista', which included a pasta dish, a meat dish, a 'cortone' or vegetable dish, and sometimes, wine. If wine wasn't included, we could always order a litre of house wine for about L 10,000 (about $7 CAD). The food was universally good. I don't think we ever had a bad meal. Thank goodness we were biking each day, so we didn't have to watch our calories. The towns in the Chianti area offered wines from the local vineyards, rather than a house wine, so we started buying different brands to sample on our own before dinner. Since none of us are wine connoisseurs, we would choose a wine from a town we h ad biked through. We enjoyed them all.
Weekends and the First of May holiday brought out the Italian bikers for their club rides. We exchanged greetings with many of them as we passed them on our route. There were many fit and speedy men and a few women, but no 'old ladies' like Joan and Jeanne. In fact we were the object of much comment and congratulations from the Italians, especially when Jeanne took off her helmet and revealed all that gray power hair. The people couldn't believe we were doing the whole trip on loaded bicycles. We did meet up with a few other independent bikers and a few organized tour groups, but tourists in buses and cars far outnumbered bikers.
Another deservedly popular activity in Italy, especially in the Chianti region and along the Cinque Terre coast, is hiking. We met some people on a prearranged Inn to Inn trip, complete with a sag wagon for their luggage. Others took advantage of free maps given out by the information bureaus in several towns, or Guide Books from home, and arranged their own hikes. We crossed several trail markers with maps detailing routes from each spot. It looked like a great way to explore the countryside.
Now for those who are interested, here are some of the details of our trip. We started our trip using Michelin maps of Italy (scale 1:300,000), but quickly got frustrated because many of the road signs listed towns that were not on our maps. A fellow bicycle tourist suggested we look for maps put out by the Italian touring association, so in Rimini we purchased better maps that were 1:200,000. This scale or better is highly recommended for anyone who wants to travel via the side roads.
| | |
| --- | --- |
| Venice canal | feeding the pigeons in San Marco Plaza |
The Burnhams started their trip in Venice, where it was lovely and sunny. We stayed on the mainland in the town of Marghera as you cannot bring bicycles into Venice. This was a good decision as the local buses into Venice are frequent and cheap. They did all the usual tourist things for 2 days, including visiting the nearby islands of Burano, Murano and the Lido beach area. Piazza San Marco and the Ponte Vecchio were crowded with tourists but they were worth the visits. It was easy to find deserted back streets to explore and watch the gondolas pass by in the canals.
Monday they started bicycling and after 3 days of cycling from Venice on flat, rather uninteresting roads, they reached Rimini (270 K), on the coast and met up with the Potters. They had arrived earlier in Rimini the same day, after taking the boat from Greece to Ancona and riding up to meet us. The best part of the Burnham's trip down was an unplanned overnight in Ravenna. It was a fascinating medieval city full of beautiful mosaics from the 5th & 6th C. They were glad they had not bypassed this town.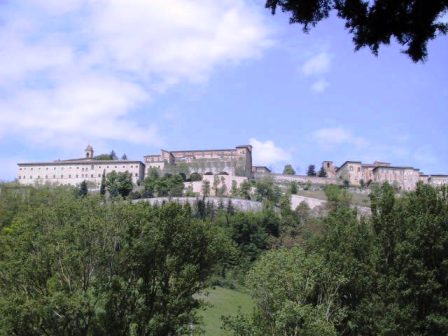 Thursday we all left Rimini and found out what Italian hills are really like. There are lots of them, but the reward was beautiful country vistas. We made it to Urbino (74 K), another Medieval fortress town, late in the afternoon. The place was crawling wi th Italian school groups out to learn about their history and loads of college aged kids (there is a University in the city) strolling the town square and looking each other over.
We decided to delay our departure in the morning to tour the Ducal Palace and museum. We had a short ride that day, just 39 K to Cagli, stopping at a hilltop town for a picnic lunch. It was a good thing we did not plan to go any farther as it started to rain shortly after we arrived in Cagli. By that time we were safe under a canopy enjoying a beer and snacks.
Saturday was overcast, but not raining and we made good time through the valleys and over rolling hills. We had planned to stop in Gubbio, but we reached there at 11 AM, so we kept on going to Gualdo Tandino. The hardest part of the ride was on a road marked "scenic" on the map, just before Gubbio. It was 5 K of steady uphill to a tunnel. Jeanne had to stop twice to get her breath, the others only stopped once; better lungs. The tunnel was 1 K long, but there was not much traffic and the road was flat, so we all made it through safely. From there into Gubbio was gravy, all downhill and good pavement.
We had planned to ride to Assisi on Sunday, but it started to rain the afternoon we arrived and did not let up much for two days. We stayed on in Gualdo Tadino exploring the good restaurants, walking around town whenever it was not pouring and playing cards. At least we had a comfortable hotel to stay in and it was a pleasant, small town.
| | |
| --- | --- |
| Gualdo Tadino alley | Assisi Basilica |
Tuesday, May 8, 2001 we finally left Gualdo Tadino and made it to Assisi before lunch. Like nearly all the medieval walled towns we visited, it is picturesquely situated on top of a steep hill overlooking green valleys and surrounded by more hills. That means you have one last ascent before reaching your destination, but it was worth it. We enjoyed walking the narrow streets, decorated with flower boxes under the windows and heraldic banners, proclaiming the sections of the town, hanging from the walls. Assisi's claim to fame is the birthplace of St Francis of Assisi. The Basilica was established as a mausoleum for the saint and his remains are in a tomb room over which was constructed two richly decorated churches, one on top of the other.
From Assisi we biked to Castiglione del Lago, on the shores of Lago Tresimone. The town is not on many 'must see' lists, but we found our best accommodation there. Our genial host, whose many paintings graced the walls of our rooms, served us breakfast in the morning in the lovely garden overlooking the lake. We liked the town so much we decided to stay an extra night and make a day trip without panniers to Montepulciano, the highest hill town in Tuscany.
| | |
| --- | --- |
| Montepulciano | Campo in Siena |
Siena was our next stop. We had intended to stay overnight en route, but there were no suitable hotels, so we had one of our longest days. Luckily, the first half of the trip was mainly downhill or along the flats, so we made good time. The hardest part was getting into Siena. First we had to travel through some of the the heaviest traffic to date, then the streets leading to Old Siena were so steep, we had to push our bikes up. Siena was the first town with an overload of tourists, both Italians and non-Italians, so we had a little problem finding two affordable rooms, with bath, in the same hotel. Consequently, we ended up with one large room with four beds, which we shared for the next two nights. At least it was large enough to accommodate all our laundry lines and even had tables at which we shared a picnic supper. We took the next day off from cycling to see the sights in Siena. The Duomo is a huge church with a striped exterior of black and white marble. The flooring is paved with coloured marble panels depicting biblical themes or allegories. The central Piazza, the Campo, was filled with people sitting in the many cafes or sunbathing on the cobblestones. Joan and Jeanne were suitably impressed with the Museo Civico, in the Campo, but no one would accompany Jeanne up the 503 steps of the Torre del Mangia for the views across town. Instead, we sampled some wines in the Enoteca Italiana, where a bottle of every Italian wine is displayed in their cellars, and enjoyed the view from the adjacent fortress walls.
We left on Sunday when the traffic was almost non existent and enjoyed a beautiful ride through the Chianti vineyards. Just outside the town of Brolio, one of the oldest Chianti varieties, we were forced off our bikes to push them up a 25% grade hill. Thank goodness it was short. We had biked up several 15% grade hills, but 25% was too much for our loaded bikes. Joan and Jeanne took a break to walk another half K up the hill to see the Castello di Brolio, the country residence of Baron Bettino Ricasoli. I guess the Baron was not aware we were coming, as we were not invited in. We continued on, following the switchbacks, until we reached the small, fortified town of Radda in Chianti just in time for lunch. We found newly renovated rooms, run by an elderly couple, and settled in to enjoy the village with its many wine stores, called Enotecas, and the surrounding countryside. The next day we left our panniers behind and headed up the side roads towards Greve. The entire loop was only 53 K but it was the toughest ride of the trip for Jeanne. She swears it was 95% uphill and that the ascents totaled 8,000 M, but Ray insisted that we went an equal distance downhill. He may be right, but the up hills sure were steep and long, even if the scenery was beautiful.
| | |
| --- | --- |
| Radda Winery | San Gimignano |
The following morning we went cross country, still in the Chianti region, to the lovely, but touristy town of San Gimignano, hereafter known as San Gimi. Bus tours by the score disgorged their passengers each morning, but departed in the evening, leaving the town in peace. The town is recognized on the skyline by its 14 towers, the result of family feuds in the 13th and 14th C. Ray and Jeanne climbed up the highest tower, the Torre Grossa, to look down on the Piazzas below and over the surrounding hills.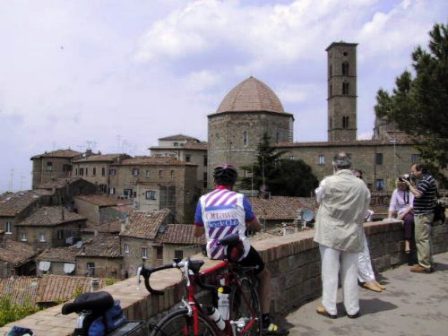 We stayed an extra day in San Gimi, in order to take a day trip to Volterra. Her memory must be short, as Jeanne agreed to go, knowing that the final ascent was steep and long. Most of the route, except for the ending, was either downhill or relatively flat, so with a few rest stops, we reached Volterra before exhaustion set in. Actually it was an easier ride than the tour to Greve. For all of us, the highlight of our visit to Volterra was our visit to the Etruscan Museum. The museum is filled with hundreds of beautifully carved, alabaster funerary urns, dating from the 3rd and 2nd C BC. The urns, along with other artifacts and small bronze sculptures, were all local finds. Jeanne wants to reassure you that she does believe that what goes up, must come down. The return trip to San Gimi was a breeze, almost all downhill.
Florence was next on our itinerary, but we didn't want to bike into this busy city. Instead, we stayed in the town of San Casciano, about 17 K south of Florence, and took the public bus into the city. San Casciano only had one somewhat overpriced hotel in our price range, but it was comfortable, and we enjoyed the best meals of our trip in the town's restaurants.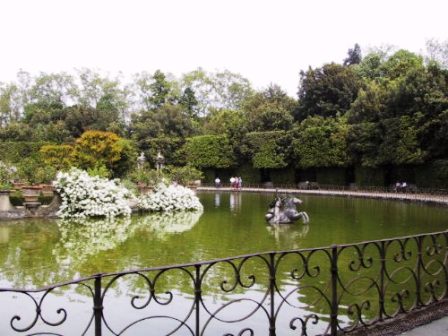 Florence was full of tourists, but a must see. We were told by fellow tourists that unless you had prior reservations, which could be arranged from home over the Internet, the most important museum in town, the Uffizi, had a very long waiting line. Not wishing to stand in line, we headed for the Bargello to admire the sculptures by Michaelangelo and Donatello, amongst others. Joan and Jeanne, especially, were impressed. The Boboli Gardens, next to the Palazzo Pitti, home of the Medicis, were recommended as a good picnic lunch spot. The gardens, covering several acres and built on a hill behind the Palace, are more a public park than extensive flower gardens. We climbed to the highest point in the garden, the Forte di Belvedere, a fortress built on the walls of the gardens and surrounded by peonies and roses. From there, we followed the paths to a broad avenue, lined with Roman marble statues, to the lovely island fountain, Isolotto. Joan and Jeanne were keen to visit the art gallery, the Galleria Palatino, inside the palace, so they left the guys to their own devices. There were so many paintings stacked on the walls of the 26 rooms of the gallery that when they finished, they had to be revived with a gelato. Ric and Ray were lucky. On their way back to meet them, Joan and Jeanne had to stop to admire the expensive baubles in the jewelry stores lining the Ponte Vecchio. With some reluctance, they both decided they would rather have another trip rather than a new diamond or more gold. Joan and Jeanne concluded that Florence definitely deserved another day, but Ric and Ray were quite happy to return to the much quieter countryside.
The next day we headed east towards Lucca, a lovely walled town. We took one wrong turn along the way and found ourselves in front of a bike store in the small town of Lazzaretto. Ric was pleased as they had just what he had been searching for, genuine Italian bicycling shirts. Several middle-aged cyclist were kibitzing around the shop when we arrived, waiting to start their Saturday bike club ride. They were most impressed by the weight of Joan and Jeanne's pannier laden bikes. One gentleman proudly posed for a photo with his newest purchase, a limited addition carbon fiber bicycle, colour matched to his bicycle outfit.
| | |
| --- | --- |
| local biker in Lazzaretto | Anfiteatro Romano in Lucca |
The rest of the trip was easy, especially as Lucca was not on top of a steep hill. Lucca was a lovely town. Several streets were closed to cars, making it very pedestrian and biker friendly. A 4K long road that circles the town on top of the bastions is a favourite venue for hikers, joggers and bikers. We visited the many churches and had coffee in the ancient Anfiteatro Romano, a perfect oval that is now surrounded by multi-story dwellings. That evening, after our dinner, we followed music to one of the piazzas to discover a live band and free drinks and hors d'oeuvres. This was a promotion for a new European model of Mercedes Benz. The wine and champagne were much appreciated.
We headed for Viareggio on the coast of Italy on Sunday, May 20. The route climbed over a steep hill with views on the other side of Lago di Massaciuccoli. This seemed to be a favourite route for area Sunday riders. We followed a few bikers d own the sharp hairpin turns to the bottom, but they knew the road better than we did and soon left us in their dust. After lunch in Viareggio, we followed the coast road north, lined with beaches on one side and cheek to jowl hotels on the other side. This is a favourite weekend spot for Florentines, but we didn't stop for a swim.
Our goal that day was to get as close to the city of La Spezia as possible. We had had enough by the time we reached the little village of Ameglia, so we got a room in the only hotel in town. The weather got progressively worse that evening and it started to pour. The weather the next morning didn't look much better and we were almost committed to the shorter but busier route to La Spezia when it started to clear. We decided to take the hilly but more scenic route around a peninsula as our last ride together. The jackets soon came off as we worked our way uphill, but we were rewarded by spectacular sights of the hills falling into the ocean. When we stopped for a coffee break, Ric remarked that it looked like the sun was coming out. Famous last words. We came out to steady light rain that continued for the last hour of our ride into La Spezia. We were all wet, but not drenched by the time we reached the city center.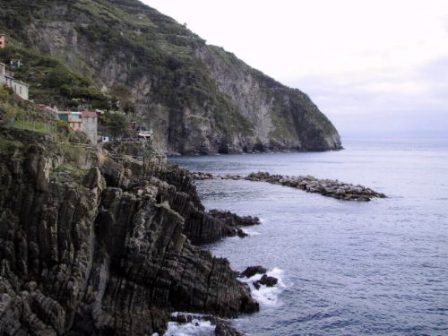 Our first order of business was to find the train station and book our seats for the next day. Ray and Jeanne were going to Milan and Joan and Ric were going to the French border. In addition, four friends from Ottawa were staying in the nearby town of Riomaggiore, in the Cinque Terre area, and we bought train tickets to visit them that afternoon. Luckily, the rain stopped later that afternoon and a six minute train ride took us through a tunnel and deposited us in the rocky cove town of Riomaggiore. Up until recently, the only way into the Cinque Terre towns was by train. Now you can drive to the outskirts of several of them. They are favourite hiking destinations. You can take day hikes or take the train to other villages and hike back to your hotel. We had an enjoyable afternoon walking the steep hillside streets, then joined our friends for dinner, before returning to La Spezia.
Tuesday we all said our good-byes and loaded our bikes onto our respective trains. Joan and Ric were continuing on through France, biking along the coast to Nice, then up through Provence to rendezvous with the rest of their family in mid-June in a farmho use, north of Toulouse. They will not return to Ottawa until the end of July. Lucky them.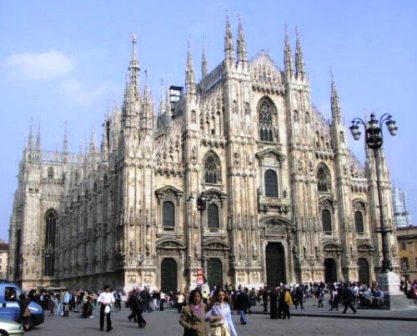 Ray and Jeanne had one last afternoon in Milan. After arriving at the train station and finding a hotel, we walked to the famous Duomo to explore our last Italian church. Each one is larger and more elaborate than the last. This one looked like a giant wedding cake.
All things must end and Wednesday May 23, we headed home on KLM flights with a brief stop in Amsterdam. Even with four weeks, we often found our time too short. There is plenty to see and do on another trip. The Italy we travelled is perfect to see by bike, car or by foot. If you are thinking of going, May is a great time of year. Yes, there are tourists about, but it was never too crowded.
Hope you enjoyed reading about our adventures. We would be pleased to answer any questions you might have about our trip.