The Magdalene Islands? It hasn't been on our bucket list, but how could we resist? How often do we have the chance to get together with all the Burnham siblings? It was April 2016 and Ray's older brother, Dick, had just phoned and offered his suggestion for a rendez-vous in September 2016. Usually we try to get together every five years. Obviously the visit in September 2015 in Ellicottville, NY to celebrate our 50th wedding anniversaries was so successful that we will get another chance in 2016.
Ray took the lead and booked accommodation for one night, September 9 2019 in Souris PEI, where the ferry departs for the Magdalene Islands, for all four couples; Dick and Charlotte, Ray and me, Jack and Jenni, Carolyn and Lorie. Ray also booked four nights at Auberge Chez Denis et Franšois on L'╬sle de Havre Aubert, one of the Magdalene Islands. Carolyn phoned us all and suggested, since we would be going by ferry from Souris, PEI, that we should book a special dinner at Michael Smith's Inn at Bay Fortune. It sounded like a plan.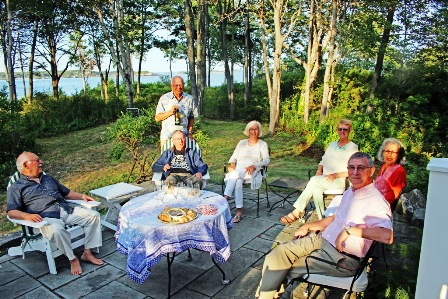 Before we knew it, September arrived and we were off on a road trip, first to spend Labour Day weekend with my sisters, Mary Douglas, Debbie Scipio and her husband Dominique Scipio, at their summer homes on Peaks Island, in Casco Bay, just a 15 minute ferry ride from Portland, Maine. My cousin, Andrea and her husband Paul Terni and family friends, Claudia and Jean Vaucher, were to be there as well, so it was a family and friends celebration. Fish and lobster were on the menu for dinner, lots of chats, walks and bike rides around the island, scrambles over the rocky shoreline and invigorating but cold swims in the ocean, rounded out our time together.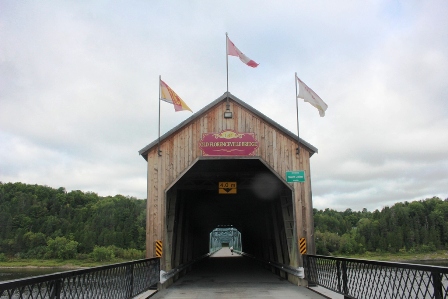 At the end of the weekend, we said our goodbyes to everyone and drove north to Ray's birthplace, Florenceville, New Brunswick. We managed visits with the few remaining relatives still living there and walked around the village noting how some things never change and how many other things had changed from our last visit a few years ago.
Read PEI and Magdalene Islands
Read about our Joint Anniversary celebration in May 2015
Return to Family Gatherings Intro