Bruges, Belgium
May 2013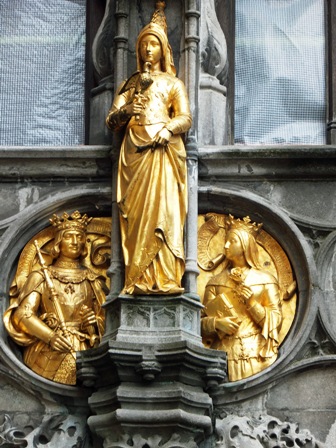 Click the photo above to see a Photo Album of bruges. Close the window to return to this page.
Bruges, Belgium May 2013
Next time, and I will return, I am staying more than two days in Bruges. It is such an enjoyable town and there is so much to see. I just had time to touch the surface of all Bruges has to offer.
The train from Paris was comfortable and quick. There was no need for a car in Bruges as everything to see was within walking distance of my hotel, Europ, which lived up to its recommendations on Tripadvisor. My restaurant choices were excellent. I built up my appetite everyday visiting several museums and snapping pictures of the traditional buildings. That left room for mussels and fries at lunch at de Gouden Kroes (the Gold Cross), seafood dinner at Pieter Pourbus, and a traditional Flemish stew at another restaurant with my friends Bill and Shirl Mander, who would be joining me later in Amsterdam for our bike and barge trip. In between meals I couldn't resist the homemade chocolates.
I can't wait to show Ray my favourite places in Bruges.
Read Bike and Barge Netherlands 2013
Return to Belgium
Return to Travels
Return to Introduction