Travels in Portugal 2019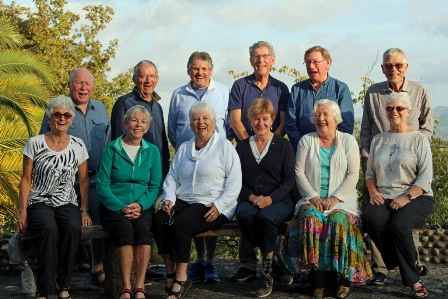 Front: Jeanne, Marg, Suzanne, Sheila, Claudia, Pat
Back: Jack, Ray, David, Barry, Neil, Bruce
Can you believe it? This was our seventh biannual get together. Our group is centered on friends we first met during our student years more than 50 years ago at Bishop's University, and we are still friends. The group has changed a bit over the years and a few good friends and spouses, who missed going to Bishop's have joined us. It is still an eagerly anticipated event. Our first week together was May 2007 in Southern Ireland, suggested by Claudia and Neil Carver. That trip set a precedent. At the end of each trip, the question is always: Where are we going next time?
We try to avoid the most popular tourist season and look for a reasonably priced villa big enough to accommodate between 12 and 16 people. After our Irish adventure, we have explored Wales, Brittany and Provence in France, Sicily, South Western Italy. This year we chose Portugal. We are currently taking recommendations for the next place to visit together two years from now.
Portugal has had rave reviews from several of our friends and Ray and I had never visited the country. Therefore, Portugal was our choice for September 21 – 28 2019. We found and reserved large Villa Quinta Dos Agros, just north of the Douro River, about a 75 minute drive east of Porto. Very soon, Suzanne and David Andrews, Claudia and Neil Carver, Margaret and Jack Dunphy, Sheila MacDonald and Barry Mair, and Pat and Bruce Marshall were signed up.
Since our friends live in various cities in Canada, each person is responsible for making their own arrangements to arrive at the villa in time for our week together. The villas we have rented tend to be in the country, a distance from the nearest town. That means that rental cars are required, either individually or shared with others who have the same interests. Once at the villa, everyone is free to explore the area on their own or join others for whatever activity might be planned. To avoid having to choose a restaurant for dinner that would require driving after dark, we share preparing a communal dinner each night. That has worked very well. Besides getting together to share experiences of the day, sharing the cost of the villa and all food and drink bought for our time together makes for a very economical and enjoyable holiday.
There are always interesting places to explore that we didn't have time to visit during our weeks together. This trip was no different. Before going to the villa, we chose to visit Lisbon and then spend a week in Mallorca. After our stay at the villa, we explored more of Portugal before flying home from Lisbon.
Jeanne wrote blogs, with photos on Google albums, about our adventures that are now available on our website.
Read Lisbon Portugal Sept 2019
Read Quinta Dos Agros
Read Porto Portugal
Read Averio and Coimbra
Read Nazare and Obidos
Return to Europe
Return to Travels
Return to Introduction