Mexico
Family Christmas in the Yucatan 2015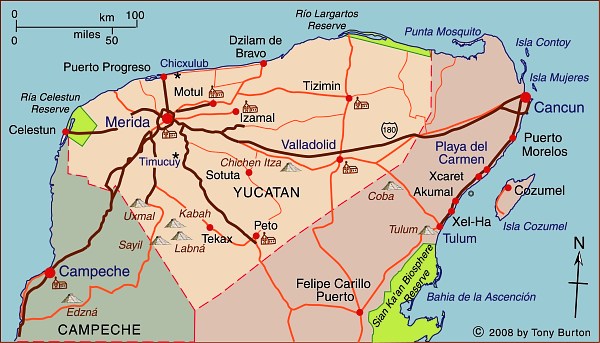 Click Yucatan Dec 2014 to see a Google Photo Album. To return to this webpage, close the window.
Read Zihuatanejo or San Miguel de Allende
Dec 14 2014 - Jan 3 2015
This was the year to return to two countries, Mexico and Cuba, that we had enjoyed in previous years. December in Mexico proved to be first of all nostalgic and then time for a family Christmas.
We flew to Cancun in mid-December booked into a timeshare condo on Cancun Beach. Hotel Club Regina was just a short distance up the beach from Club Med, where we celebrated joint 25th wedding anniversaries with Ray's siblings, Richard, Jack and Carolyn, and their spouses, 24 years ago. Three of us had been married in the 1965, and Jack and Jenni just two years later. We thought it was amazing we were all celebrating 25 years of marriage and didn't anticipate planning a joint 50th anniversary next spring.
We managed a small tour of the beachside facilities and confirmed that Club Med looked a bit expanded but almost the same as we remembered. The surf was high in front of hotel Club Regina and the Club Med beach included a more protected section at the end of the beach. The beaches in Mexico are mostly public property so nearly every day we walked over to Club Med and swam in front of the resort. Nobody minded.
The town of Cancun has grown exponentially beyond the village it was back in 1990. It proved much too busy and commercial for our liking. We did find a large, new grocery store to buy provisions to make our own meals in our condo. Our stay was relaxing, with daily walks on the beach and swims in the ocean.
Family time began with the arrival from Paris, France, of our daughter Erica, her husband Andrew Auerbach and their two boys, Atticus and Roman. They arrived late Dec 18, while we were still at the Cancun condo, allowing them an extra day to get over major jet lag. They needed the time. Atticus came down with flu type symptoms, probably contracted from school friends in Paris. We joined them on the 20th, just in time to move everyone to our condo apartment on Puerto Morelos Beach. Atticus was still not feeling 100% but he recovered quickly.
We were pleased with the layout of our apartment on the second floor of a complex with about 12 units surrounding a pool on the beach front. The boys topped off every ocean swim with play time in the condo pool, which was just the right size and depth for multiple games, often with other children staying at the condo. We had two bedrooms, two bathrooms, a kitchen, a large sitting area with sliding door to a balcony, and a separate dining area that doubled as our games table. Clue, left by the owners of the apartment, became the most popular game. The Auerbachs had the large family sized room with one bed area leading to a small balcony where we hung our laundry and wet suits. Folding doors separated the room into a second sleeping area with a large bed for the boys. There were lounge chairs and tables around the pool and in a roped off area on the beach. We were very comfortable.
The first activity for everyone was a swim in the ocean with snorkels brought from home, outside our condo. Erica and Roman came ashore asking if it was safe to swim above the several barracuda right close to shore. We assured them it was fine as long as no one was threatening the barracuda. We quickly got used to them and delighted in identifying yet another new fish each day.
There was always something new to see on the beach and in the water. The coral reef lay just 600M offshore and several large coral rocks with colourful fish close enough from shore to be reachable by each of us, even the boys. A strange phenomena, called the Ojo de Agua, (Eye in the Water), was just offshore. It was formed when a small piece of the coral shelf in the ocean floor collapsed, leaving a hole. The water above the hole was almost opaque as the fresh water of an underground stream, released through the hole, mixed with the salty ocean water. If you dove down close to the hole, the water suddenly was clear again.
I hadn't realized Stingrays liked to jump. Ray and I were surprised to see one leap high above the surf, not once but twice, as we took our daily walk. We wondered what bigger fish was out there chasing the Stingray. Eagle Rays abound off Puerto Morelos. On one of our snorkeling trips off the beach, we were all thrilled to encounter two of these large, spotted rays gracefully flying in formation through the waters.
Erica and family had a snorkel trip out on the reef, which was a first for the boys. The family also took a trip to swim in one of the many local cenotes, fresh water swimming holes created in the same manner as the Ojo de Agua. The Yucatan Peninsula is a large limestone shelf, riddled by underground fresh water rivers. When a cave, carved out by an underground stream, collapses, it leaves a large, deep pond, perfect for snorkelers and divers searching for more underwater caves and fish varieties able to survive in less saline waters.
Several days the wind was strong enough to bring the kite surfers out. We loved to watch them race across the ocean front. We tried our luck with a large kite left for our use in the apartment. First the strings had to be untangled. Then with Ray's assistance we got it into the air. The kite had two handles that needed more coordination that we had to fly it for any length of time. Roman and I had a turn each controlling one handle. We had it up in the air for a while before it started to spin, madly out of control. I think Roman considered the spin the best part of kite flying.
We did put up a few balloons and Christmas decorations in the condo. Erica found a banner in a local store, with "Felice Compleanos", Happy Birthday, in honour of Atticus' 10th birthday on Christmas Day. The boys were up early to open stockings from Santa and a few presents from their parents. The favourite presents were sets of Nerf Zombi Blasters, big guns that shot foam bullets. They had a great time aiming at everything in sight. We all had a turn aiming at the balloons. Roman helped Erica and I bake a cake, decorated with Smarties and candles for the Birthday celebration that day.
Erica and I took the boys to visit CrocoCan, a nature park just a few km from Puerto Morelos, featuring reptiles, animals native to the area and of course, crocodiles. We were guided around the site by a knowledgeable young woman who told us about the animals and allowed us to hold several of the inhabitants, even a baby crocodile, with its jaws closed with an elastic. There is an active crocodile breeding program at the park. The last section wound around the crocodile pond where large beasts lounged in the sun. Our guide had to go ahead and shoo a few crocs off the path so that we could proceed. We were glad we didn't have to escape from any hungry croc. Thankfully they were all well fed and lazy.
We all took a day trip to visit the very popular and crowded Tulum archaeological site. We survived but I would recommend the less popular Coba over Tulum. We did enjoy the Voladeros who perform the the amazing feat of dropping from a high platform, attached by ropes on their ankles, and twisting their way to the ground and we had a nice lunch in Tulum before driving to our second stop of the day, Akumel, on the most popular day of the year. The draw at Akumel is the turtles that come to feed in the shallow waters. We had to wait in line to get flippers and required life jackets. Finally, Erica and family got equipment and off they went. They were thrilled. They saw turtles galore, various rays and even an octopus. Ray and I swam from the beach without flippers or life jackets. It was fine. I spent most of my time shadowing two turtles as the fed on sea grasses and came to the surface periodically for air. Erica declared Akumel as a definite repeat location.
We were sorry to say goodbye to the Paris family. They flew home on New Year's Eve, the most affordable time to travel, and Ray and I stayed on alone until our flight to Havana, Cuba on January 3 2015.

Read 2015 Zihuatanejo or San Miguel de Allende
Return to Mexico Intro
Return to Travels
Return to Introduction