Mexico
Zihuatanejo 2015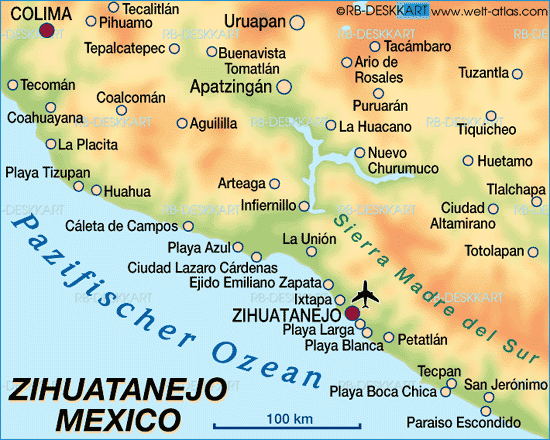 To see photos on Picasa/Google click
Zihuatanejo
and select slideshow from the right-hand arrow.
To return to this webpage, close the Picasa window
Read Yucatan or San Miguel de Allende
Feb 6-28 2015
What more could we ask for; a beautiful beach, warm waters, good restaurants, local markets, a comfortable room and, best of all, great neighbours. Three weeks in Zihuatanejo went by so quickly that we are reserving for four weeks next year.
Zihuatanejo, a fishing village, at the head of the large Zihuatanejo Bay, with a backdrop of the Southern Sierra Grande Mountains, is now very popular with tourists who come for the beaches and calm waters.
We stayed in Casa Azul, the blue house, (www.casaazul –zihuatanejo.com ) a small three apartment house on a dead end street on a hill above La Madera Beach, between the main town beach and long La Ropa beach on Zihuatanejo Bay. Our apartment, El Nid (the nest), was the smallest, a compactly designed studio. Our room was open to the elements on the front. It had a kitchen, bathroom, sitting area and dining table under the sun and moon on our open balcony. Ray said it reminded him of sleeping in the lean-tos in the Adirondacks and how much he liked being wakened up to the sun streaming into our room, unimpeded by windows and curtains. I got used to the early mornings and put mosquito repellant on in the evening, as the nasty critters ignored Ray but zeroed in on me. I even got used to music drifting into El Nid in the evening from clubs in town and put my earplugs in for the Friday and Saturday performances. Why do clubs think that music has to be played at maximum volume?
But small complaints didn't prevent us from enjoying our stay. We established a beach routine that had a bit of everything we like to do. After walking down the 77 steps to La Madera beach we would claim a chair in our favourite beach side restaurant and go for our swim. I liked to have a long swim almost the length of La Madera beach and back, while Ray took his time swimming and floating contentedly in the warm ocean. To dry off, we would have a long walk across the beach and back to our chairs, order lunch and read our books. A second swim and walk would complete our day. Add in chats with other tourists and it made for a very relaxing day.
A crowd of people at the La Madera shoreline signalled something unusual was happening. Ray met me at the water's edge as I finished my long swim and said an eel was in the surf near shore. Sure enough, a small head appeared trying, unsuccessfully, to swim against the small breakers. Some bigger children started to throw rocks at the eel, fearing it might bite someone. I decided a rescue operation was warranted. I went to the restaurant we frequent and asked to borrow a bucket. One of the employees grabbed a spade, which I hoped he wouldn't need, and followed me back to the surf. I waded into the shallows where the eel was still attempting to get to deeper waters and scooped the eel into the bucket. It was a small spotted Moray Eel, about 18 inches long, with a lovely ruffled dorsal fin down its back. Eels usually hide in a safe rock crevice, occasionally poking their heads out. The only other times I had seen an eel was snorkeling over corals. I wanted to take the eel to the rocks at the far end of the beach, where eels had been previously sighted, and let it go so it could find a safe place to hide. Everybody on the beach wanted to have a look at the captive, who at least wasn't trying to climb out of the bucket. After everyone had had a turn to admire the eel, Ray and I carried the bucket over to the rocks where we tried to find the best place to liberate it. We chose a small channel running to the sea and dumped it out. Immediately it started swimming towards the open water, only to get washed back with the next wave. The rocks are also the favourite spot for fishermen to come foraging for oysters and one was busy scraping off the molluscs nearby. We finally left, praying the eel would escape before the fisherman decided to catch and kill it. I never saw an eel body floating around, so perhaps our rescue attempt was successful.
We did visit a few of the other beaches on Zihuatanejo Bay. We made the trek up one hill and down another that took us over the rocky point separating La Madera Beach from La Ropa Beach. There we followed the same routine, with perhaps a longer swim and a longer beach walk. We even extended one La Ropa visit by clamouring over a rocky path to Las Gatas Beach, the last beach on the deep Zihuatanejo Bay, where there were some coral outcrops to explore. We didn't get bored.
We always enjoy visiting local markets and the large Central market in Zihuatanejo sold almost everything we needed to cook our meals. We especially liked the variety of fruits and vegetables available and the fresh fish for sale. One day we followed the walkway from La Madera, past the length of the town beach to the Municipal pier, just in time to see the fishing boats arrive after a day of fishing with clients. It must have been a good day, for three boats were unloading huge Sailfish, recognizable by their large, erect dorsal fin, the sail and their long, sharp bill, similar to a swordfish. One successful fisherman posed with his catch, hoisted up by their tail to be weighed and measured. The fisherman credited with the catch may take home enough fish for a meal but the majority of the is given to the boat captain and much of that catch ends up in the market, where we were more than happy to by a small portion for our dinner.
We met several fellow tourists who became good friends. Bill and Susan Calkin, from Colorado, were the newlyweds right next to our El Nid room. Bill is the former owner of Casa Azul with the agreement of the current owner that his all-time favourite suite, Arriba (upstairs) for February and March. Bill and Susan found each other later in life when Bill started taking piano lessons from Susan, and they got married last December 31. The third apartment, Abajo (below) was occupied by Marilyn and Mike Meeker, a delightful couple from Minnesota. Our friend Morris Davison would be interested to hear that Mike is a Thai-chi enthusiast. We knew he was doing a work out on the back patio whenever we heard the soothing strains of music he used to accompany his routines.
Susan came with Bill for the first time last year and visited the local primary school with the view of returning this year and volunteering her services as a music teacher. Susan arrived this year with 30 recorders with which she taught a grade 5 class how to play. Marilyn, a former teacher, jumped at the chance to be an assistant to Susan, even though she had to learn to play the recorder along with the children. Susan also brought along a ukulele and a miniature horn, hoping to join in with ever group would have her. Susan
brought along her horn one afternoon when we met then for drinks in one of the restaurants lining the town beach. Sure enough roving musicians stopped at our table and Susan asked if she could play with them. They agreed, knowing we would tip them well, and play Susan did. The guitarist was able to follow her but the poor accordionist didn't have a large enough range on his instrument to keep up. It worked out well for all, but that was not enough for Susan. She found a local band, directed by a young man from Mexico City, and consisting of mostly expats longing to keep up their musical talents. From then on, twice weekly practises with her horn were added to the recorder lessons in the school.
Another activity was added to our daily routine. Bill was a bridge player and Susan wanted to be a capable partner. The problem was she had never played any card games at all. Her musical family spent their time with sing songs and making music with their multitude of instruments. Susan needed to start learning from scratch, including the names of the suits and why one suit was more dominant than another. Every afternoon we four got together for one or two hours of beginner bridge lessons. Susan was thrilled and worked hard to remember everything we taught her. We recommended some of Audrey Grant's bridge books that are popular in Ottawa and suggested she find a Beginner Bridge class back in Colorado to strengthen her new skills. We expect to hear that Susan and Bill succeed in playing with friends in their home town. We will also expect to continue our lessons next year. It certainly made Ray and I review all our bidding and playing rules.
Ray and I are not true birders, but we especially enjoy seeing and identifying birds that we don't normally see at home. Ray had bought a Peterson Bird Guide for North American app for his mini iPad. That gave us a great start identifying the shore birds that searched for food along the shoreline on the beach every day. We had to branch out and Google the internet for Mexican Birds to identify a pair of large birds that lived behind Casa Azul. They turned out to be West Mexican Chacalacas, members of the chicken, or wild turkey family. They had made a nest in one of the large trees in our backyard and laid eggs, but we don't think they were very successful in raising any chicks. Raucous clucks would alert us to the fact that other birds were raiding their nest. Despite brave attempts by the Chachalacas to scare the intruders off, we think a gang of the Yellow-headed Blackbirds won, as there were broken egg shells on the path.
We were so content with our swim routine that we hadn't given any thought to going on a day trip anywhere else. That is, until almost the last day when the recommendation of a Wildlife Refuge Center at Barra de Potosi, a short ride down the coast, sparked our interest. Off we went on the local bus the next morning to Los Achotes, a small town 25 km from Zihua. Six gringos from Zihua piled into the back of a converted truck with benches along the sides of the back heading to Barra de Potosi Beach. I told the driver to let us off at the Refuge center and he did. It looked like a large property, all fenced off but there was no one around and the gates were locked. I rang a bell, repeatedly and called out until finally a worker arrived. He looked at us and went to get the owner. That is when we found out the Wildlife Center was closed, and had been for a year. The owner was busy giving an art class to 13 participants but she did arrange for a worker to drive us to the beach, as it would be another 45 or more minutes for another bus-truck to come along. At least I had brought my bathing suit in case we had time to head to the beach after the Refuge Center, but Ray did not have his. Once at the beach, a very long expanse of white sand with an entrance to a lagoon at one end, we found chairs at a one of the beach restaurants and went for a walk. There were lots of beach restaurants, but few people on a Monday, but many wading birds and terns along the shore of the lagoon to photograph. Ray was able to buy an inexpensive suit to wear, the swimming was good and the food just right for lunch, so the day turned out well, despite. Next time we will check on the internet before heading out on a day trip.
Return to Mexico Intro
Return to Travels
Return to Introduction