Zijuatanejo Mexico Feb 2016
Fun in Zihua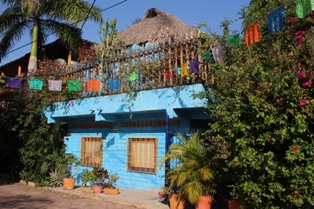 We are back for a second year in Casa Azul, this time in the ground floor apartment, on La Madera Beach, Zihuatanejo. No matter how many times you return to the same familiar place, it presents a new side to discover. This year it was the fund raising events, mostly instigated by the Gringos who love returning to Zihautanejo. This year we were fortunate enough to be there to take part in several events.
The first was a street dance to buy a new defibrillator for the Red Cross volunteer medics. It was held just a block down from our apartment on Calle (street) Lopez Mateus, above La Madera Beach. We invited our friends, the Andrews, Suzanne and David, and Barry Mair and Sheila Macdonald, to join us. The others the same time in Zihuatanejo as Ray and I and were sharing a condo at the end of La Ropa Beach. We all met to grab a table and enjoy the evening. There were two bands of retiree-aged gringos entertaining the capacity crowd. We danced to the music that reminded us of our youth and enjoyed a special presentation by four young children and their teacher performing traditional Mexican dances.
Sailfest week has become a popular annual event. A weeklong series of festivities fund building construction and maintenance, plus special programs in a local school. Wednesday evening was held in a local restaurant. Again, very good gringo bands provided the entertainment for a capacity crowd who danced it up to more favourites from the 60s and 70s. It was a fun evening. Ray and I missed the chili cook-off lunch, but reports from the Andrews, Sheila and Barry, make it a must for another year. Next time I am also going to sign up to sail aboard one of the many boats in the harbour for a cruise in the bay.
Super Bowl 2016 was the focus for all football fans. All the restaurants had advertised they were open for business for anyone wishing to see the game. La Perla, one of the beach restaurants on La Ropa Beach, brought in 10 wide screen TVs for the event. Barry reserved a table for us. Once again, it was a capacity crowd, the majority cheering for the eventual winners, the Denver Broncos. We didn't win or lose money on the event. We were there just to watch the game and the half-time entertainment, a star-studded extravaganza as usual.


At the end of the game, Ray and I joined several others walking home along the beach. A few people ahead of us called out a warning to watch our step. There were baby turtles trying their best to make it to the ocean without being snatched by the night heron and other predators waiting for a tasty snack. We tried to make sure the babies were going in the right direction unimpeded.

The rest of our days were taken up with shopping for food in the local market and the bigger commercial market, washing clothes by hand and relaxing at the beach, where the weather is always sunny and warm. Several days we joined the Andrews, Sheila and Barry on La Ropa Beach. Other days, we stayed at La Madera Beach, where we renewed acquaintances from last year. Our usual routine, no matter what beach we were on, was a long swim in the ocean by me, followed by a walk on the beach to dry off, and lunch.

La Madera Beach has become the favourite meeting place of an extended group of Canadians from Saskatchewan. The treat for us, besides chatting to them, is listening to their jam sessions, once or twice a week. Two men and one woman are great guitarists with a wide repertoire of songs, again, mostly from the folk era of the 60s and 70s. Valentine's Day, this week, they were augmented by a woman with a banjo and a fiddler. They are good listening. We look forward to another performance before we leave.
We said our farewells at another good restaurant, Mito's, in the middle of Zihuatanejo town. We expect to have several other experiences to share with them when Ray and I travel to San Miguel de Allende at the end of February.
Read The Sting Zihua 2016 or Feasts in Zihua 2016 writeup
Choose one of the following links
Return to Mexico Intro
Return to Travels
Return to Introduction