Puerto Morelos Dec 17 2019 - January 21 2020
Welcome Back to Mexico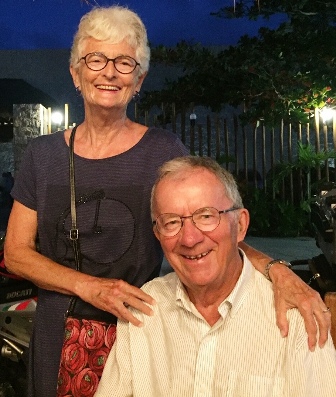 Click the photo above to see an album of photos. Close the window to return to this page

December 17 to 20 2019

The pilot descended towards Cancun Airport. He tried to land once, aborted, climbed and circled. He tried a second time and circled again, this time for longer. Then came the announcement; it was pouring rain and the visibility was nil at ground level. We were redirecting to Cozumel airport. That was good news and bad news: the pilot was not taking any risks but we were now delayed for an unknown duration.
The rain had not reached Cozumel yet so we landed safely, and sat on the runway. The door to the plane was opened for fresh air and cooling mists were released into the cabin but we were not allowed to get off the aircraft. Our seatmate, a young woman from Nova Scotia, was going to Playa del Carmen, just a ferry ride away, with her brother and sister-in-law, but they could not get off to go to the ferry terminal. For one reason, their luggage was in the hold and for another reason; they would have to go through immigration on Cozumel, since the office was not open. The pilot announced that he was filing a new flight plan to return to Cancun and we would wait until the weather improved before leaving. In the meantime, the plane was refueled, to allow us to return to Cancun and then continue back to Toronto. Finally the pilot announced that he had word that one plane had not managed to land in Cancun but another one had landed. His advice was to attempt the landing. It took another 20 minutes, but we were finally airborne. The pilot still had to hold for just the right moment but visibility was good and down we went. Everybody clapped.
Our flights had started well. The short flight out of Ottawa was on time and our three hour wait in Toronto went by quickly, plus, the flight from Toronto to Cancun also left on time. It was just a much longer trip to Cancun than we anticipated.
At least we were now in Cancun. We retrieved our luggage and walked out to find it was still raining. Instead of the less expensive ADO bus to Puerto Morelos, we took a private taxi direct to our house. The driver got us there quite fast.
Once in the apartment, this time, the one directly above our usual unit on the street level. The upper one is reserved for 2-3 months by an American couple but they were not arriving until Jan 1, so we had booked to stay the first 2 weeks in the upper unit before transferring downstairs on Dec 31. The new unit is brighter than the ground floor unit, and has a very good outdoor patio but doesn't have as much storage space as our usual unit. The patio also has a plunge pool that we will have to try out sometime.
We quickly unpacked essentials and oriented ourselves in the new-to-us unit before heading out for something to eat. It was still rain coat weather for our walk to town where we found our favourite taco shop, T@cos.com, was still open at 9:30 PM. We ordered guacamole and tacos filled with shrimp, cheese and spinach to share. Washed down with a beer, we felt well fed. We even enjoyed a serenade by a local guitarist, who played some Bob Dillon numbers translated into Spanish. I need to know the titles of more Mexican songs to request, but he did a good job.
It was after10:30 PM by the time we walked back, still in the rain, to our unit and got ready for bed. It had been a long day and it was still raining, but we had made it to PoMo again.
Read more of Puerto Morelos select: Christmas 2019 or Boom or Bust Jan 2020
To read about the rest of our winter in Mexico, click one of the following
Return to Mexico Intro
Return to Travels
Return to Introduction