It was great to be back in Puerto Morelos after missing the previous year due to COVID-19, although that didn't mean that COVID had disappeared. Despite having two vaccinations before we left, we had to be careful, and we thought we were. Our apartment was in good shape, and we looked forward to eating fresh fruit and vegetables again. The Christmas season had not started yet, the beaches and restaurants were uncrowded, and the sun was shining. We went for walks and swam in the ocean. We were enjoying our apartment again and felt happy not to have to wear winter clothing. Several of our friends from previous years were already here. We looked forward to getting together with them again.

Christmas came and the decorations in the center of town were spectacular. Christmas dinner was shared with our friends from Ottawa, Judith George and Bill Landles at John Gray's Kitchen. Our 56th anniversary was celebrated on Dec 30, at Tanino's, again with Judith and Bill.

| | |
| --- | --- |
| Xmas decorations | Bill, Jeanne, Judith, Ray at Tanino's |

We enjoy eating at our favourite restaurants, El Nicho for breakfast in the backyard patio, T@cos.com for tacos and many more new ones each year. We do cook most of our meals in our apartment. We have many places to shop for food, fresh squeezed orange juice at the small fruit and veggi shop around the corner from us, fresh frozen fish at the shop across the street from the fruit and veggie and major items at the new Chedraui in the center of town. Everything we need is a short walk from our apartment.

In mid-January, Ray came down with a "cold" and I started to have a scratchy throat. Ray was reluctant to get tested for COVID at the clinic a block away, because he thought it was just a cold, until we had a conversation with our son, Ross, whose whole family had been hit with the virus. Tyler and Ryan were living at home again, studying on-line after their universities had closed classroom learning and Gavin, in his last year of high school had switched to on-line learning as well. Tyler had built a gym for weightlifting in their basement, which all three boys used. Some of the gyms in Barrie opened after Christmas, and Tyler, Ryan and Kaitlyn, Ryan's girlfriend visited one day, the same day that the gym closed due to COVID for one of their staff. Kaitlyn was first to fall victim, followed by everyone in Ross's house, plus Kaitlyn's sister. No one was seriously ill, but they were not feeling very good for several days. Ross's symptoms were the same as the symptoms that Ray was experiencing. The next day I went to the testing clinic and had the rapid test. It was positive, so I insisted Ray get his rapid test. Ray tested positive as well. Thankfully our symptoms were mild and didn't last more than a few days. That meant we avoided contact with all our friends and wore our masks when we were outside. We were able to go for walks, keeping to the empty streets until a self-imposed quarantine period of two weeks was over. We were glad we were in a warm climate that made it easy to be outside, rather than cooped up inside our house. We also decided to delay our departure from Puerto Morelos by one week, to allow us to be sure we were no longer a risk to anyone else.

Before our bout with COVID, I had started yoga sessions with Patti in her backyard palapa, which I attended regularly, except for the quarantine period. Angela and Howard, from London, England, joined the class and became new friends for Ray and me.

The Yucatan peninsula is a huge shelf of coral covered with white coral sand. The coral acts as a cover for fresh water, discovered centuries ago by the indigenous people who depended on this reserve of fresh water for their existence. Our favourite spot to snorkel off the beach is just a short block from our apartment. That is where there is the Ojo de Agua, which is a hole in the limestone bottom that allows the fresh water underneath to mix with the salt water of the Caribbean Sea. The result is cloudy, almost oily looking water above the hole, where the smaller fish love to gather. I guess they find the yummiest food in that area. Once we have swum out to the Ojo to see the schools of fish there, we continue farther out to find the large coral covered rocks where the larger fish gather. There are always barracuda to avoid but during the daytime they just seem to laze along the bottom. Occasionally we see large eagle rays and perhaps a turtle diving down to eat in the grasses. We never get tired of exploring.

We met up with our Manitoba friends, Maurice and Susan, at the beach. This year they were hosting for the Christmas holidays, several of their children and grandchildren. Earl and Flo, from Saskatchewan, were there as well. It was like old home week.

We like to explore all the streets in town on our daily walks. There are only 3 major streets parallel to the beach, so we try to walk farther afield towards the north and south. At both ends of town are small resort area with much larger complexes that are not allowed to build within the town of Puerto Morelos limits. We can also walk the 2-3 km into the Colonia section of Puerto Morelos, on the other side of the major highway through the Yucatan. The road bisects a huge mangrove swamp that is a protected area, with no buildings allowed within its boundaries. The water level of the area is higher this year, a result of heavy rains earlier this fall. This means that you may meet a crocodile! Judith and Bill met one, lazing very close to the sidewalk, as they walked to the Colonial. Here is photo of the crocodile they met that day. Just don't try to make friends!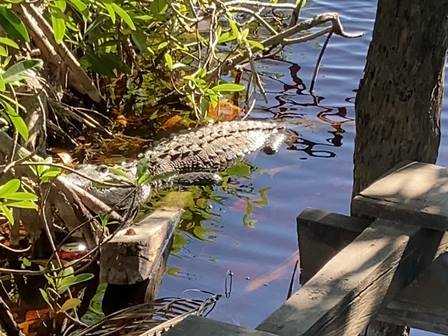 Never Smile at a Crocodile


Our visit to Puerto Morelos ended on January 28 2021, when we flew to Zihuatanejo, another beach holiday, where we will stay until February 28 2022. We have reserved the same apartment for next year and look forward to returning once again.