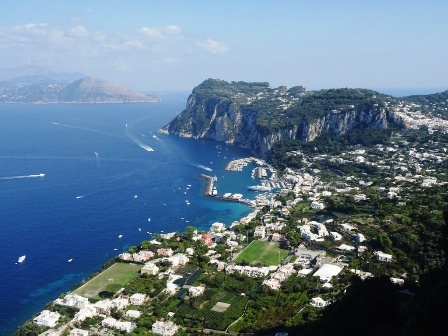 Click the photo above to see an Album for Capri. Close the window to return to this page.

Read Previous Episode: Naples or Next Episode: Amalfi Coast

We made day trips from Naples to visit Capri, Vesuvius and Pompeii, returning each night to our comfortable hotel in Naples.

"There are too many tourists on Capri. Head as quickly as possible onto your hiking trail." That was our advice and we followed it, with great success.

It is easy to get to Capri from Naples or Sorrento. It was just 45 minutes from the SNAV dock in Naples to Marina Grande on Capri. From the marina it was a short, scenic ride on the Funicular to Piazza Umberto I in Capri Town. We didn't spend much time in the town for we had a walk to do that would lead us up to Monte Solaro and then down to Anacapri town on our way back to Marina Grande. We saw a small group with a guide who seemed to be headed the same direction as we were. They were the only other people we saw on the trail until Monte Solaro. The trail went through woods, heading ever upwards under steep cliffs above Capri Town. If Ray and I were ever unsure of which path to take, we just watched for the hiking group and knew we were on the right track. At the top of the cliffs we had a great view to Marina Piccolo on the south coast of the island. We could even see the famous rocky pillars, the Faraglioni Stacks, near the marina. It was time for a rest and our picnic lunch we had brought with us from Naples.

After lunch, we climbed upwards again to the lookout terrace on Monte Solaro, where we joined all the other tourists who had taken a single chair ride up to the lookout. For our descent, we took a stone steps and a wide gravel path to Anacapri at the chair lift station. From there it was down the 921 Phoenician Steps towards Marina Grande. Built between the 6th and 7th C BC, the steps were once the only way to get between Anacapri and Marina Grande until 1874. Originally it was the women of Anacapri who walked down to the port every day and carried back goods brought in by ship. Were the men too busy having coffee and chatting with their friends?
| | |
| --- | --- |
| Vesuvius | Pompeii |
Click either photo above to see an Album for Vesuvius and Pompeii. Close the window to return to this page.

Naples knows how to transport the thousands of tourists who come every year to visit Vesuvius and Pompeii. The Circumvesuviana train station was about a 10 minute from our hotel. The train runs all the way to Sorrento, with convenient stops for both tourists and commuters along the way. The

Ercolana-Scavi stop brings you to a shuttle bus stop that takes passengers up to the last car park, about half way up the volcano.

From there, we walked on a broad cinder path up to the rim of the dormant volcano.

Of course there were hoards of people walking with us, but there was plenty of room for everyone. It took us about 35 minutes, including lots of stops for Ray and I to take photos back to town and into the crater. On the other side of the crater we could see a line of tourists walking with guides. It looked like an interesting way to see Vesuvius but at is $200 US each, including transport from Naples, it was too pricey for us and the 4 ½ hr of walking was a bit daunting. We might have considered it if we were younger.

Other tourists had told us they preferred the smaller Herculaneum, a short distance from the base of Vesuvius. Yes, Pompeii is huge and it is almost impossible to see everything in one day, but the visit was certainly worthwhile. We had never visited Pompeii before. Plus, our tour included being met in Pompeii at the end of the day and driven to our hotel base for our walks on the Amalfi Coast.

Once again we took the Circumvesuviana train that stops just steps from the Pompeii ticket office and entrance. Of course there were hoards of tour groups and families visiting Pompeii. It was the weekend and locals are off work. That didn't matter. The site was large enough for everybody. We marveled at the mosaics, frescoes and statues. We walked the crowded, narrow streets of the town, gazing into what were shops, small homes and mansions before Vesuvius erupted and destroyed the city in 79 AD. We toured the baths, a most civilized way to get cleansed and meet up with your friends. The huge forum, basilica, amphitheatre and theatres, both large and small were fascinating. We took lots of photos. Lunch was a good sandwich from the only restaurant/take-out on the site and we ate it sitting by the side of the road. We lasted until 4 PM when we called it quits and retreated to a cafe outside the archaeological park entrance.

We had time to relax and enjoy fresh squeezed lemon and orange juice before finding our shuttle bus driver who took us to Bomerano, in Agerola Commune, in the hills of the Amalfi Coast. From Bomerano, we were to take three differents day walks.

We looked forward to what promised to be a great way to see the Amalfi Coast.