San Miguel de Allende Mexico Mar 2016
So Much to Do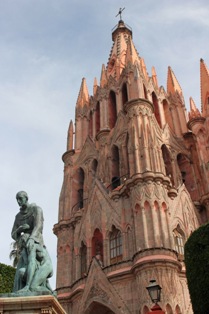 Click San Miguel de Allende to see a Google photo Album. Close the window to return here.
<![if !supportLineBreakNewLine]>
<![endif]> There is no time to get bored in San Miguel. Every Friday the local newspaper, Atencion, is published with write-ups and schedules of the events for the coming week. There are documentary films with discussions in the San Miguel Biblioteca (Library and small theatres) and Posada Quinta Loreto Hotel. Concerts are offered at the Biblioteca, at the Angela Peralta Theatre, sometimes at the Centre de Bellas Artes, at the small Shelter Theatre and in St Paul's Anglican Church, arranged by the Pro Musica group. A semi-professional group offers plays at the San Miguel Playhouse and an amateur group does play readings at St Paul's Church. If that is not enough there are recent run and classic movies at the Petit Bar AKA Pocket Theatre, and at Cine Bacco in a local hotel. Instead of paying a fee to see the movie, which is on a legal, or copied DVD, your entrance ticket gives you a bag of popcorn and a drink of your choice.
We took advantage of many of the offerings, sometimes two per day. In between we had dinners and lunches with a group of Canadian friends, introduced to us two years ago by David and Suzanne Andrews. Ray and I attended a Bird Walk in the El Charco Botanical Garden. The walk is led by very well qualified Canadian and American volunteers, many of whom have settled permanently in San Miguel. The Botanical Gardens is interesting enough on its own, with its collection of cactus and other native plants, that we make a point to visit it at least once per year.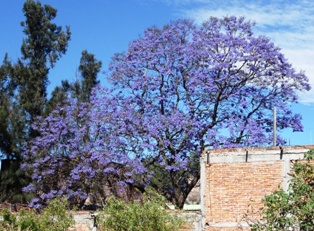 Plus, every Tuesday and Thursday mornings, I attended Aquafit classes in the heated outdoor pool of Posada de la Aldea Hotel and I took a very instructive afternoon Photography walk with Gracie Skylar, a talented local photographer. Now I need to practise all that I learned with Gracie.

Then every Saturday there is an excellent Organic market where we can buy artisan cheeses, herbs and vegetables, specialty mushrooms, home-made soaps and herbal remedies, breads, quiches and lots more. To take a break you can buy lunch of Mexican specialties and eat it accompanied by strolling musicians. If you still have time, there is an Artisan Market next door that operates both Saturday and Sunday. My favourite was Margaret Burbidge who makes wonderful necklaces, bracelets and earrings from silver, turquoises, coral, fossils and other stones, many of them bought in an annual gem market in Tucson Arizona. I couldn't resist and bought two of her creations.

Read Conchero Dancers 2016 or El Seņor de la Columna 2016 or Semana Santa 2016 writeup

Choose one of the following links

Return to Mexico Intro

Return to Travels

Return to Introduction