Ray and Jeanne's Personal Interests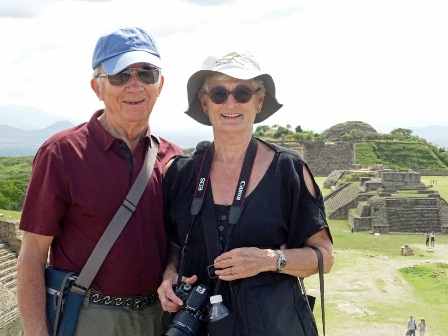 Ray and Jeanne Mexico Oct 2018
Ottawa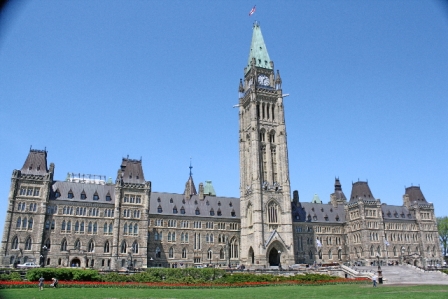 Parliament Buildings
| | | | | | | | | |
| --- | --- | --- | --- | --- | --- | --- | --- | --- |
| Tulip Festival at Dow's Lake | | | | | | | Biking with friends | |
For more information on our fair city, see www.ottawa.com
Ottawa, the capital of Canada, has been our home since November 1992. Ray was an engineer with Bell Canada and Jeanne worked in the IT world. We are both now retired and have time to pursue our other interests and travel the world. Ottawa is a great place for us to bicycle and hike in the Gatineau hills and easy access to the Adirondacks, New Hampshire, Vermont and Virginia.
In the winter of 1999-2000 we combined a trip to Nepal with backpacking through South East Asia. This was so successful we have been spending up to 5 months each year exploring more countries. We added another dimension to our travels in December 2007 and January 2009 by volunteering for a month as part of our trip.
In the past few years, we have spent most of the winter in Mexico. We still enjoy travelling to new countries every year, several with our friends from my alma mater, Bishop's. All in all, we don't have time to work anymore. Life is too short.
Click Gatherings of Friends to see photos and writeups to remember some of our good times together.
(see the Travels section for photos and writeups).
Our Family
Our son, Ross and his wife Sherri, live in Barrie, Ontario with his wife Sherri. They have three active boys, Tyler (26), Ryan (24 on Dec 23 2022) and Gavin (20) on Jan 6 2023). This has been a successful year for the boys. Tyler graduated from University of Ottawa at the end of April 2021 in Mechanical Engineering and is now working at Prodomax Automation Ltd, in Barrie. Ryan studied in Business Administration at Laurier in Waterloo and is now working for Mogulz-Media selling e-commerce business software. Ryan and his girlfriend, Kaitlyn Owens, have moved into their first apartment together in Toronto, while Kaitlyn finishes her studies in Homeopathy and Ryan continues to work online. Gavin in now in first year Computer Science at University of Toronto, after working the previous year with Pickard Construction in Barrie.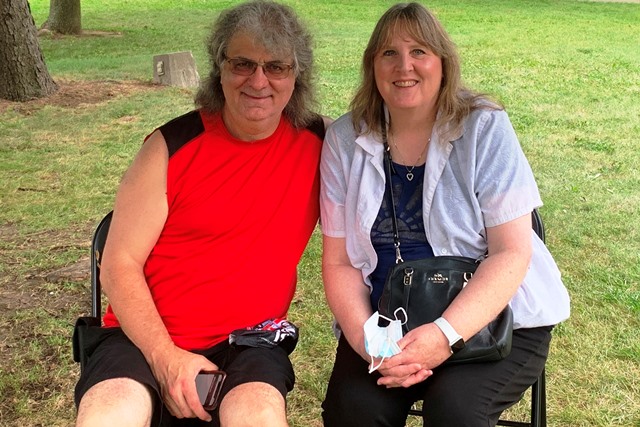 August 2021 Ross and Sherri
Ross works in the parts department of Currie Trucks in Bradford. This is an ideal job for him as he has had a life long fascination for 18 wheeler trucks. Sherri operates an office cleaning business in Barrie.
After 2 years in Jakarta, Indonesia, our daughter, Erica, and her husband Andrew Auerbach and their two boys, Atticus (18 on Dec 25 2022) and Roman (16 on Jan 6 2023) are pleased to be back in Paris, as of July 2021. Andrew is back at work in the Paris Headquarters of OECD (Organization of Economic Cooperation and Development). Erica spent the fall waiting for their furniture to arrive from Indonesia and deciding what her next employment would be. Atticus completed his high school in Paris and Roman is continuing his schooling in the French Lycée system.
(see the Paris section for photos and writeups of the Auerbachs first 16 years in Paris)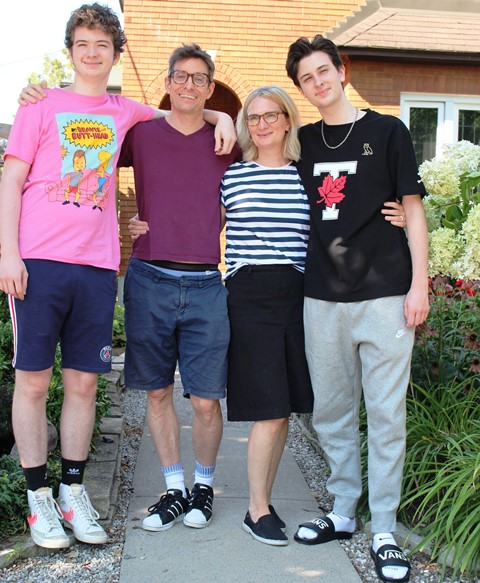 August 2021 Roman, Andrew, Erica, Atticus
We were fortunate that the Auerbach family were able to visit Canada for two weeks last August and we celebrated with Ross and family for a weekend in Kingston, Ontario. It was great to get together again catch up on all we missed over the previous two years. We discovered that our grandchildren are now over 6 ft tall delightful young men!
Click Kingston August 2021 to see an album of photos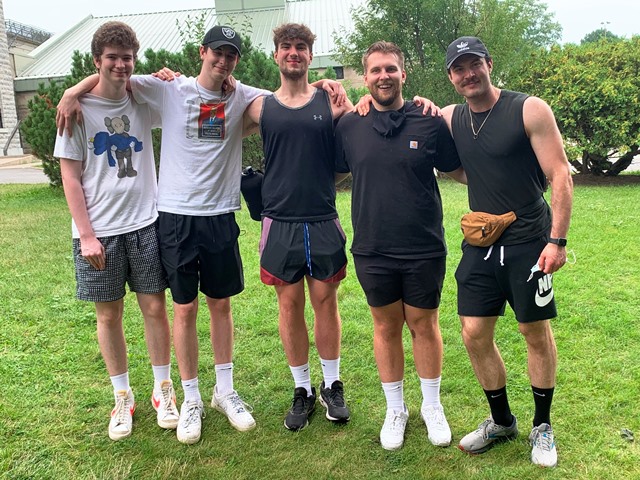 August 2021 The grandsons: Roman, Atticus, Gavin, Ryan, Tyler
We are fortunate to have a close relationship with our families. Click Family Gatherings to read and see photos of some of our events.
Return to Introduction