Ray and Jeanne's Gatherings of Friends
Over the years we have established friendships with several people. We have photos and writeups to remember some of our good times together.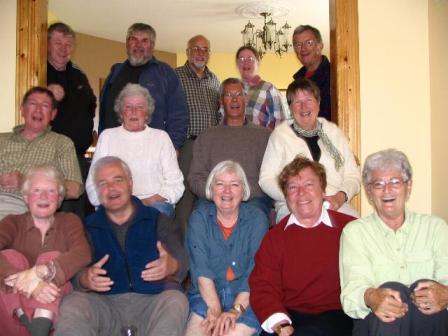 Ireland in 2007
Jeanne has continued friendships with several of her Bishop's University classmates. Claudia and Neil Carver suggested we all get together for a week in Ireland in 2007. Every two years since then we have organized a week together in several countries.
Choose one of the following to read about our group adventures together.
We have joined up several times for hiking or bicycle trips that have been very successful. Have a look at some of our trips.
Hiking Wainwright's Coast to Coast Walk in England May 2006
A Self-Guided Walk in the Dordogne Oct 2015
See the Bicycling Page for links to several of our trips with friends

A summer celebration
Our friendship continues with our friends we met during our years in Mississauga.
It has been a while, but we love to remember Birthday celebrations in Burlington 2004 and Burlington 2003
Return to Personal Interests
Return to Introduction